Painting Maine Landscapes - watercolor workshop series
Topic: Watercolor Class
Here is the painting I did at today's watercolor demonstration after my painting "Monroe's & Sheep's Island, Owls Head, Maine", shown below:


I'm making a printable notecard of this painting that can sell as a digital download. As soon as I can get the paypal button creator to cooperate, this will be available! Would you like both paintings as notecards?
Press Release:

Painting a Maine Coastal Landscape - Watercolor Demonstration and Workshop Series with Catinka Knoth

Rockland - Catinka Knoth will give a watercolor demonstration on painting a Maine coastal landscape, "Monroe's Island and Sheep's Island...",on Monday August 9th, 11am at Lincoln Street Center for Arts and Education.This event is free and open to the public. Knoth will create another version of a view originally painted from the walkway up to Owls Head Lighthouse.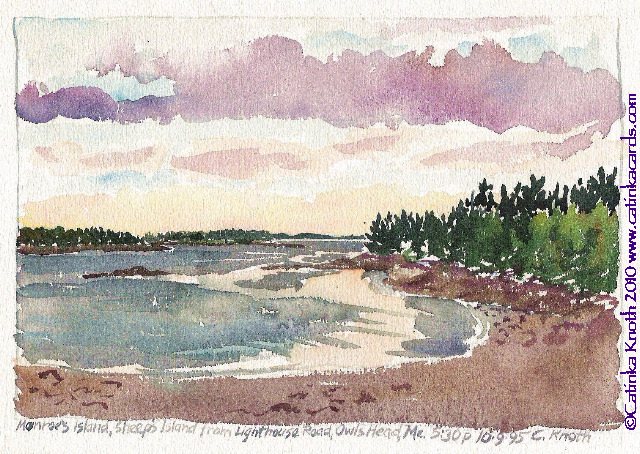 Onlookers will see how variegated washes can depict a sky and calligraphic brushstrokes can represent trees and rocks. The demonstration precedes a four part studio watercolor workshop series Knoth will teach, "Painting Maine Coastal Landscapes", a studio watercolor workshop exploring basic aspects of a Maine coastal view. The class will meet Tuesdays, 10am-Noon, from August 10-31, at Lincoln Street Center for Arts and Education, 24 Lincoln St.

Each week is a different motif:
8/10 The Skies of a Maine Seashore
8/17 Trees around the Maine Coast
8/24 Rocky Shorelines of a Maine Coastal Scene
8/31 Water and Surf in a Maine Seascape Inspired by Winslow Homer

Participants may sign up by suggested donation of $80 for the complete series, or $25 per individual session. Call Knoth at 596-0069 or 542-7317 to confirm space.
Posted by Catinka Knoth at 1:48 AM EDT