"Blooms & Brushes Part I" - Floral landscapes watercolor workshop series
Topic: Watercolor Class
This watercolor workshop series explores flowers and gardens in summer landscapes. The four week studio class meets Tuesdays, 10am-Noon, from July 6 through July 27th, at Lincoln Street Center for Arts and Education, 24 Lincoln St., Rockland, Maine, usually in 'The Messy Art Room'. Participation is by suggested donation of $25 per class or $80 for the four part series. Call me at 207-596-0069 or 542-7317 to confirm space.
7/06 Rosa Rugosa Beach Roses by the Maine seashore
7/13 Oriental Poppies in an early summer garden
7/20 Lupine on the Maine coast
7/27 Daisies and Flocks in a Maine Wildflower Garden
Proposed Part II:
8/03 Day Lilies in a Maine Perennial Garden Landscape
8/10 Poppies in a Maine Garden Scene
8/17 Roses in a Maine Perennial Garden landscape
8/24 Fuschia Fireweed and Loosestrife along the Maine byways
8/31 Purple Asters and Goldenrod in a Maine field.
Watercolor "June Garden", poppies seen in a June garden, painted, then this version painted in July. Seems only yesterday. How time flies.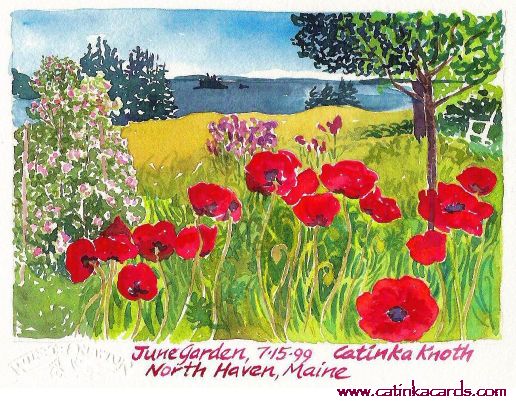 Posted by Catinka Knoth at 7:21 PM EDT
Updated: Thursday, 8 July 2010 7:56 PM EDT