Marshall Point Light Lighthouse Drawing & Watercolor Demonstration Samples
Topic: Watercolor Class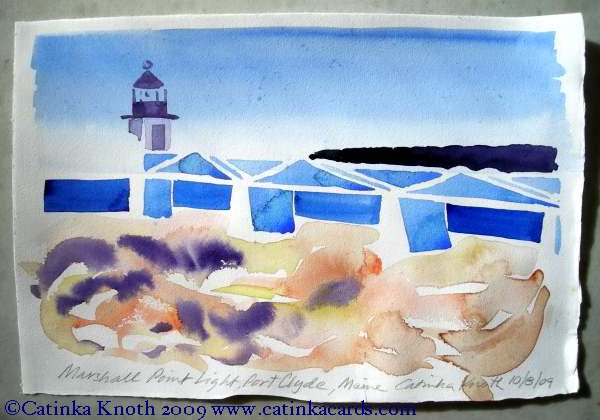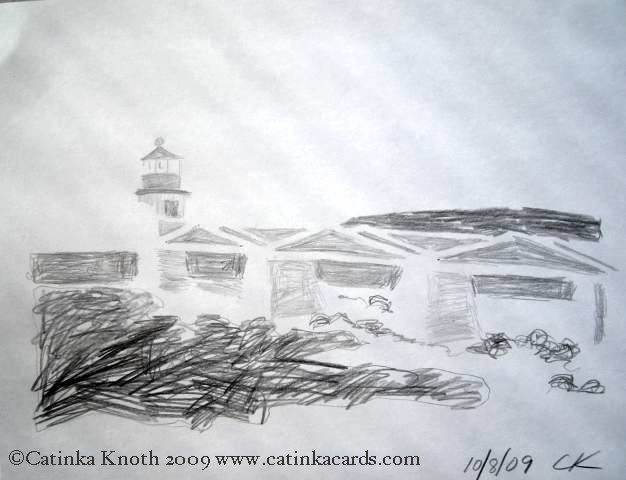 These demonstration drawing and watercolor painting samples of Marshall Point Lighthouse were done with a family of four in October. The parents and their two kids followed along with me in painting their own versions of these images.

Beginning Steps for "How to Draw and Paint a Maine Lighthouse"
We start with the tonal drawing using a black and white photograph for reference. The object is
a)to get familiar with the shapes so that when we paint we have a map in our mind of where to lay the paint.
b)practice seeing shapes as interconnected pieces rather than just outlines.

Painting the watercolor is done directly - no underdrawing in this case!
a) We lay down a gradated wash for the sky.
b) We paint the brilliant blue sections of ocean as if they are a chain of blocks marching across the sheet. They also form parts of the tower and the bridge pylons.
c) We paint the shadows of the pylons with a slightly diluted blue (or artist's choice).
d) Also the shadow of the cylinder beneath the bridge.
e) We practice the turret of the tower. See how many objects you can relate the dark parts of the tower to. I won't tell just now. It's a good brainstorm and guessing game. When these shapes have been practiced with as few strokes as possible (on some practice paper), they get painted for real. Since we have not 'drawn' in the cylinder it is important the turret gets placed directly over the cylinder! We don't want too much of a leaning Tower of Pisa here. Sometimes I end up with a leaning tower because I'm demonstrating sideways and up in the air, so that people can see what I'm doing. You really should face your work head on or you'll get a skewed vision.
f) The walkway gets reduced to a pattern of triangles - like a necklace. Practice first. Note how the triangles are shorter on one side - the apex is not visually at the center of the triangle. That's because of the perspective of the walkway. Also note how the triangles get bigger and more elongated as they get closer to you. Perspective again.

That's all for now!
Learn more about this and other 'Paint a Maine Scene' watercolor workshops.
Posted by Catinka Knoth at 1:43 AM EST
Updated: Tuesday, 1 December 2009 2:02 AM EST